Case: MTS Schrode AG
GREAT PRODUCTIVITY INCREASES AND BEST WELDING QUALITY.
READY-TO-ROBOT SOLUTION BRINGS ENORMOUS ADVANTAGES TO MEDIUM-SIZED COMPANIES.
MTS Schrode AG, a specialist in civil engineering and road construction, has made a name for itself with innovative compaction systems. In seven different versions – from the 100-kilogram "light" V3 Mini to the V10 that weighs more than 1.6 tons – the family-owned company in Hayingen manufactures popular construction tools. Every compressor is made of 15-to-30- millimetre-thick structural steel connecting the individual components into a single unit. There are more than two dozen weld seams, and they must absorb extreme stresses. Constant vibrations act on the material in addition to a contact pressure that may reach 6 tons. Therefore, heavy-duty weld seams are absolutely vital. Manual adjustment of the weld seams poses a great challenge. The company chose an automated welding solution from Lorch in order to produce the highly popular compressors in their various versions at the required high quality and in a timely manner in spite of the shortage of skilled workers. The core of this is the high-performance MIG-MAG robot welding power source S5-RoboMIG in its SpeedPulse version. The Ready-to- Robot solution and productivity-enhancing MIG-MAG speed processes has allowed the company to achieve savings in the amount of about 80 percent in the manufacturing process.
Overview of MTS Schrode AG.
SpeedPulse and SeamTracking function.
FAST AND PRECISE WELDSEAMS EVEN ON BENT PARTS.
Use of the Ready-to-Robot solution turned out to be a decisive advantage for MTS. All MIG-MAG speed processes can be used in production now. The Speed- Pulse welding process not only allowed a significant welding speed increase, but also a considerable reduction of rework due to minimal spatter. The SeamTracking function is another benefit for the company. Since bent parts are the most commonly used ones, deviations of up to 5 millimetres are possible. The robot will find the optimal path itself, calculate the tolerances, and set the other weld seams precisely. This way, the robot system not only produces higher-quality weld seams, but also significantly shortens welding times: Where eight and a half hours were once required for manual welding and grinding of a single frame, the robotic cell has reduced the entire production process to just over two hours.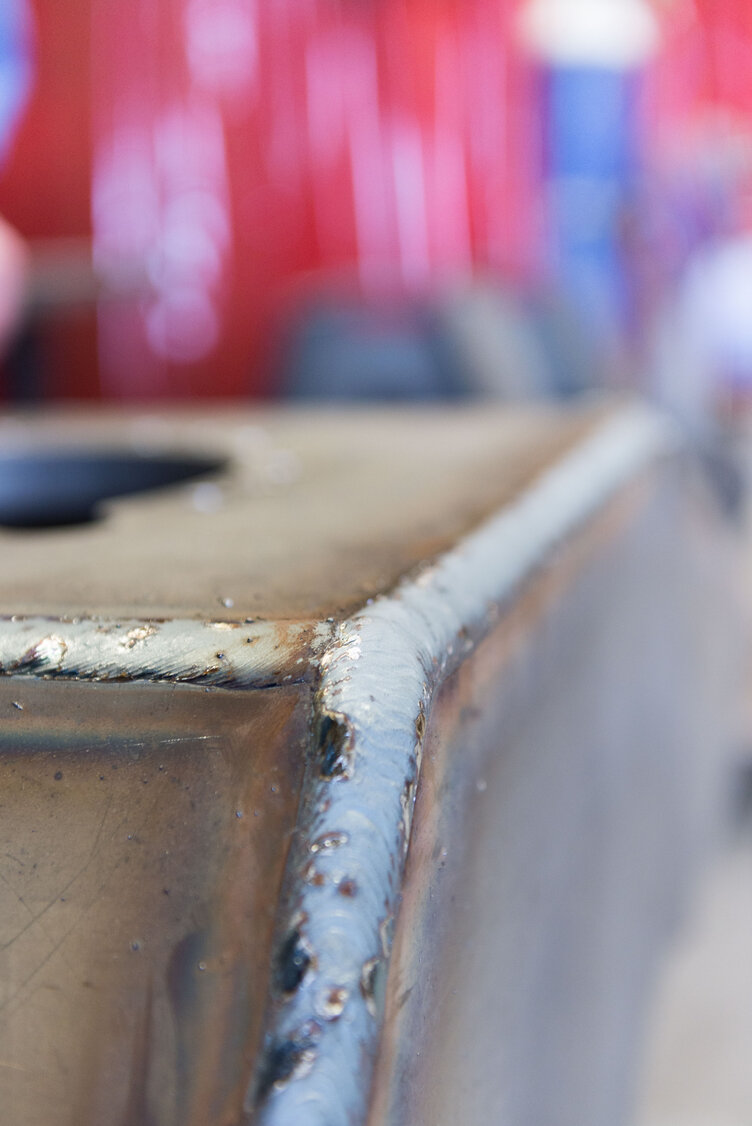 Best surfaces, virtually spatter-free.
Robots have reduced the amount of rework per weld seam to an absolute minimum.
Flexible.
Welding is always possible in the optimal position of the tray due to the precise interaction of the robot arm and positioner.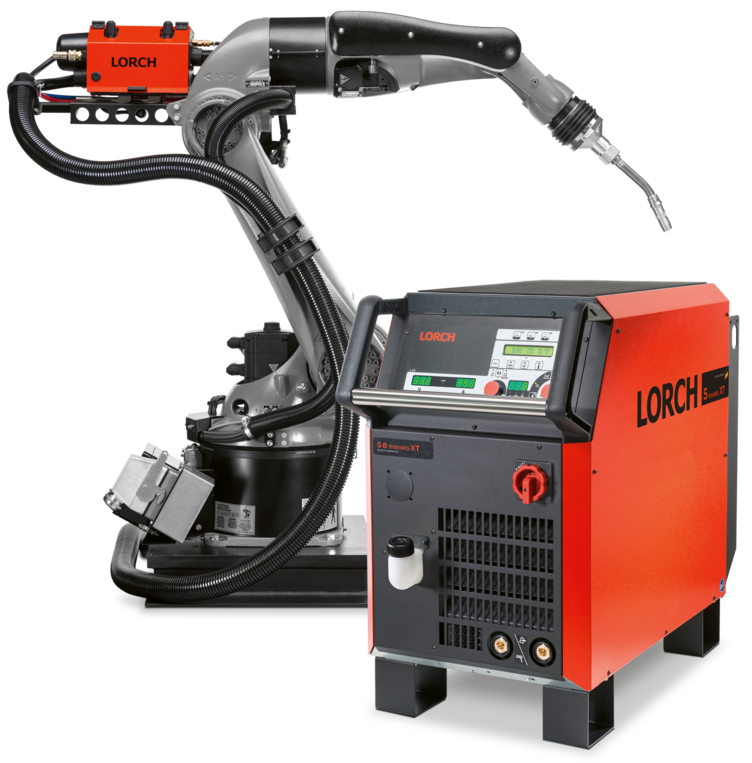 The S-RoboMIG series: Premium MIG-MAG welding units made to measure.
Flexible robot solutions open up new perspectives for industry and medium-sized enterprises. The S-RoboMIG works precisely and is extremely versatile at proper integration, in particular in changing production conditions. The pre-configured, ready-to-weld S-RoboMIG packages for Yaskawa, ABB, Fanuc, Kawasaki, Kuka with torch and interface simplify integration into any production without any coordination great effort with the manufacturers.
Downloads
Do you want to learn more about the S-RoboMIG XT series by Lorch? Technical data as well as further details on application and equipment can be found in the data sheet, and additional information is provided in the brochures: