The RF-06 robot wire feeder
Compact. Light-weight. Precise.
Quality in every detail. The robot case for standard and hollow-arm robots.
The requirements to a wire feeder in robot use are clear: compact build, optimised weight, while preserving power and, of course, optimised insulation for permanently protection of the robot electronics.
The Lorch RF-06 robot wire feeder meets all of these requirements. It is optimised for robot use in many ways, including its weight of less than 7 kg that allows perfect attachment of the case to a robot.
Designed for hollow-arm and standard robots alike, the wire feeder can be used in gas or water-cooled operation. Their sophisticated design allows easy adaptation of the water hoses of the intermediate hose package of the Lorch robot power sources to the underbody of the RF-06.
Great performance on a small scale.
The Lorch RF-06 robot wire feeder and its features.
Wire feed.
4-roller precision wire feed with robust, weight-optimised feed plate of fibreglass-reinforced plastic, additional insulation, and tool-free roller change.
Sophisticated bottom structure.
Insulating base plate, installation channel for water pipes, and mounting option for a variety of robot adapter plates.
Functionally optimised connections.
For the control line, gas, compressed air, wire feed, and welding current (safe cable-shoe connection).
Sliding system.
The Lorch RF-06 robot case sliding greatly facilitates torch maintenance on hollow-arm robots by increasing the space for changing the cores. Maintenance-related and time-consuming case disassembly is rendered obsolete.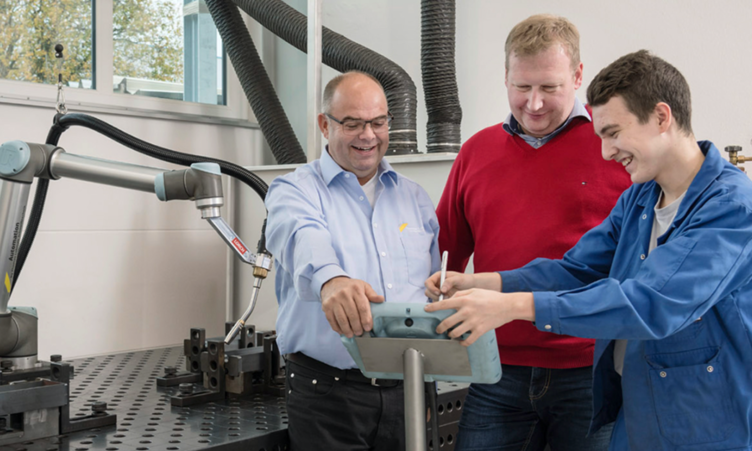 Always the best advice: close, personal and honest.
Are you interested in an RF-06 robot feed case from Lorch or do you have other questions? Use the Lorch partner search to easily find a competent contact person in your area and get personal advice.