Cobot welding.
Robots and people weld hand in hand.
A lack of skilled workers, cost pressure, and technology gaps.
The challenges of medium-sized enterprises.
Do you find it increasingly hard to find qualified welders as well?
Are you and your company facing increasing cost pressure and growing demands to quality?
Are you looking to technologically prepare your company for new tasks of the future, without quite knowing yet how to do that?
This is the reality many medium-sized enterprises are facing. Only efficient use of qualified employees and optimisation of work processes allows companies to manufacture at attractive conditions without compromising their quality, and to remain competitive as a result. No need to be afraid, however: We have a solution for you.
The simplest solution for your challenges: Cobot welding.
Fast, flexible, and economical welding automation for medium-sized enterprises.
Collaborative robot welding, or Cobot welding in short, is an ideal system for automating small and medium-sized series. Why? First, the assisting robot does not need to be enclosed in a protective cell. Welders can interact with the Cobot directly. Second, the amount to be invested into Cobot welding is significantly lower than that for far less flexible industrial robot welding.
Cobot welding will help you master the challenges faced by medium-sized businesses:
Compensating for a lack of skilled workers.
Time and physical relief for skilled workers: Welders programme the welding task, operators perform it with the Cobot
Greater productivity through simple operation and high flexibility
Efficient and reliable achievement of the required production quantity
Ensuring quality, reducing costs.
Constant and reproducible welding quality – 365 days a year
Great quality of results leading to less rework and less scrap
Clear cost savings thanks to reliable high quality
Staying at the pulse of the time.
A simple step towards Industry 4.0
High renown as an attractive, future-oriented, and ergonomic employer
Investment costs pay off quickly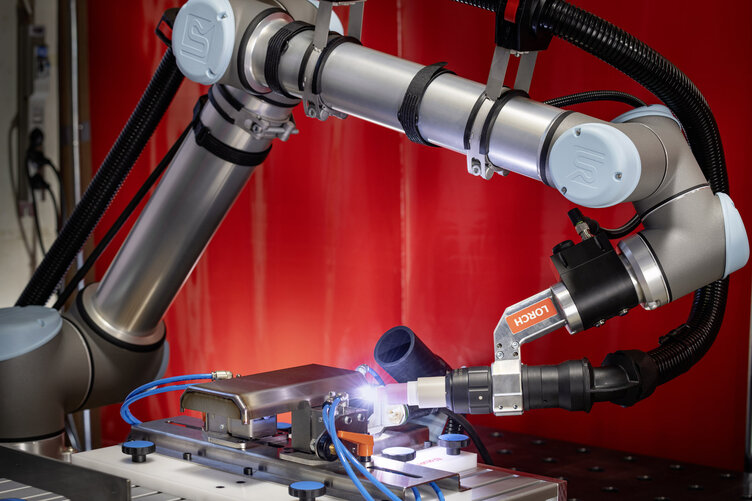 The Lorch Cobot Welding Solutions: the all-round carefree package for welding automation.
No matter if you are dealing with MIG-MAG or TIG.
Are you looking to automate your welding production with a Cobot to master your challenges? The Lorch Cobot Welding Solutions are what you need! This perfectly coordinated package combines
high-quality robot technologies from the Cobot market leader Universal
innovative welding technology by Lorch
intuitive Lorch Cobotronic operating software
and a comprehensive service range with best, professional support.
This makes the Lorch Cobot Welding Solutions a perfect package deal that is available for both highly efficient MIG-MAG applications and challenging TIG welding tasks.
The Cobot can be integrated easily into your work processes.
Lightweight construction technology and integrated safety solutions allow Cobot use in direct interaction with people. The Lorch Cobot Welding Solutions provide a top-class collaborative welding robot with considerable reach, sufficient load capacity, low-maintenance technical elements, and sophisticated technology.
Other features:
Very simple operation.
The Cobot becomes a natural automation tool for your employees with its touch display and intuitive user interface.
High productivity.
The Cobot welding basics are easy to acquire in the course of a two-day training course that covers commissioning, operation, and welding functions.
Simple programming.
The free-drive function shows the Cobot manually to where it is to weld, including intermediate points and sections.
Unique software for greatest comfort and efficiency.
Lorch Cobotronic makes the difference.
The Lorch Cobot Welding Solutions differ from other Cobot solutions by its optimised software. It is perfectly adapted to the welding technology by our experienced welding experts to increase your production's efficiency through greatest user-friendliness and intuitive handling.
In addition to special additional functions, you can choose between the classical robot job mode, modern individual mode with full parameter access to the power source, or the innovative assistant mode that provides users with suggestions to match the optimal system settings, including robot travel speed, based on the welding task at hand.
The Lorch Cobot Welding Solutions in use. Literally close enough to touch.
People and robot working hand in hand for Cobot welding.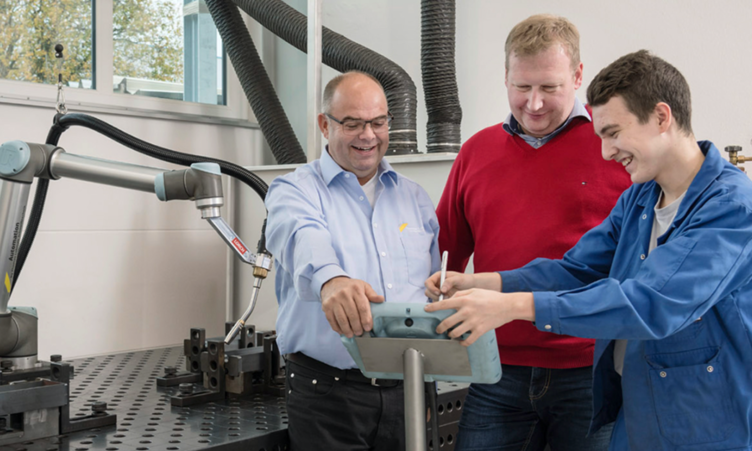 Lorch Cobot partner near you.
Professional consulting, employee training, service and financing offers - all from a single source.
The Lorch Cobot Welding Solutions are available from one of our qualified Cobot partners: personal, close and fast! An international network of certified Lorch Cobot partners assures you of competent support directly in your vicinity. For example, simply try out Cobot welding on site: during a live demonstration on a demo system! Convince yourself.