A LOT OF PAST. FOR EVEN MORE FUTURE.
The history of Lorch Schweißtechnik GmbH.
Lorch has not just been around since yesterday.
A lot has happened since 1957. But there is one thing we have always lived by: looking ahead!
We at Lorch are a family business and proud of it. We know our customers in the trade as well as in medium-sized businesses and industry.
We at Lorch stand for "Smart Welding". Why? Quite simply: It always starts with an idea. This is followed by electronic simulation and basic experiments. Then the prototype. And with it, things get tough. Welding. Change. Welding. Change. Welding - around the clock. For weeks on end. Together with our customers - because smart is to develop practical solutions to meet everyday and extraordinary challenges. We produce systems that represent the highest development successes. And hardly find a better comparable product on the market, in their era. It's only smart when it enhances your future.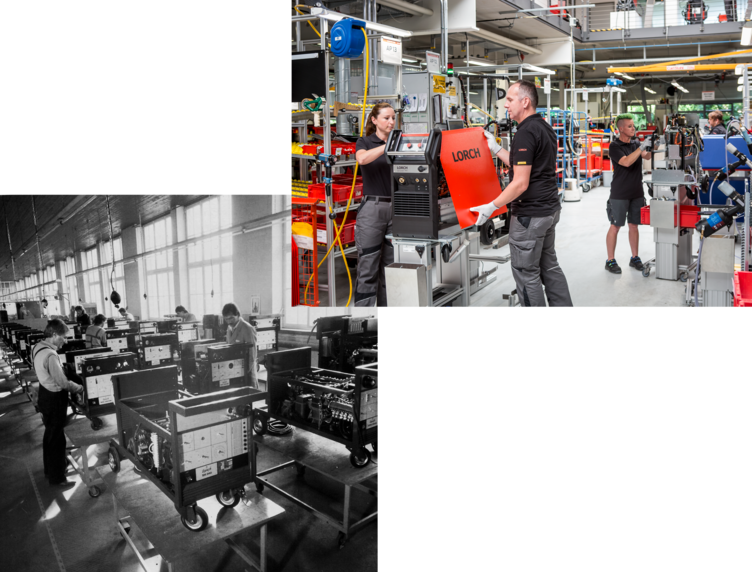 Innovation from the beginning.
1957
Bruno Lorch founds the company in Fellbach near Stuttgart.
1958
With the first portable electrode welder, Lorch is bringing a real world first to the market.
1963
Helmut Grüb takes over sales.
1967
The first welding system with a plastic housing leaves the factory.
Quality was already the top priority back then. So the first polyester housing had to prove its stability by placing the company truck on top of it for testing. It passed the endurance test with flying colours!
1969
The first TIG welding system goes into series production.
1986
Helmut and Wolfgang Grüb take over Lorch Schweißtechnik.
2001
From the Federal Minister of Economics for C-Dialog: Lorch receives Federal Award for Outstanding Innovative Achievements.
2003
The first pulse system (S series) with digital processor control from Auenwald starts a new era and defines quality in welding.
2009
Introducing Lorch SpeedPulse: the first speed process for faster pulsing without loss of quality.
2010
The first inverter with patented MicorBoost technology is launched on the market.
The patented MicorBoost technology works like a car's turbocharger: maximum power is extracted from a very small space. This helps inverters to achieve an almost ideal welding characteristic.
2011/12
Masters of Speed: With SpeedRoot, SpeedCold, SpeedUp, SpeedArc and Speed-TwinPuls, Lorch is developing five new processes for more efficient welding.
2014
Market launch of the MicorMIG series on a resonant basis with NFC technology.
With the MicorStick, Lorch is launching the first portable electrode welder with a lithium-ion battery.
In combination with the "MobilePower" battery pack, it enables mobile, mains-independent welding and was awarded the "Bundespreis 2014 - für hervorragende innovatorische Leistungen für das Handwerk". ("Federal Award 2014 - for outstanding innovative achievements for the skilled crafts sector")
2016
The new S-XT series with the SpeedPulse XT process makes the pulsed arc controllable.
2018
With the introduction of the Lorch Cobot Welding Package, Lorch is a pioneer in the field of welding cobots.
2019
With the mobile MicorTIG series, Lorch introduces the first TIG inverter with HF ignition on the battery.
2020
Launch of Lorch Connect - an innovative, simple cloud solution to make welding production digital and transparent.
The Lorch Cobot Welding Package in TIG design extends the spectrum.
The best of both worlds: Start of Lorch's Europe-wide cooperation with the robotics technology leader Yaskawa.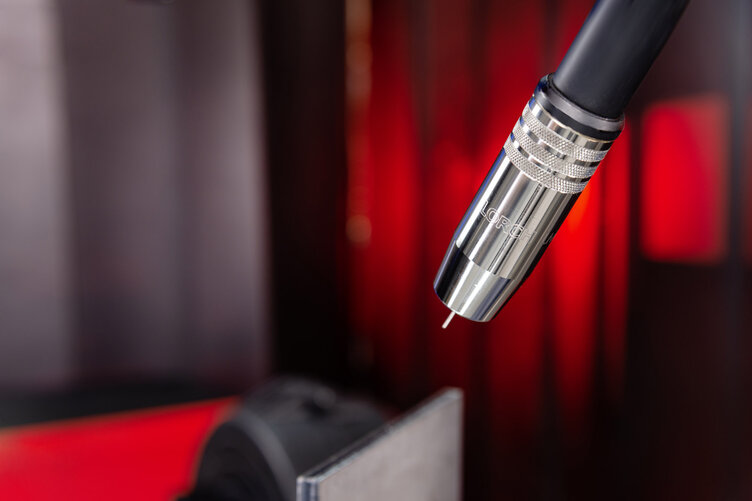 Lorch smart welding – It's only smart when it enhances your future.
Find out what makes our solutions so future-proof for crafts, SMEs and industry.