Welding automation.
Automation solutions for medium-sized enterprises and industry.
Why automate your welding processes?
5 good reasons for welding automation at your operation.
The most obvious reason for thinking about welding production automation is the productivity increase. Choosing the best type of welding automation for your needs will have even more advantages for your business, however!
Increasing quality and reproducibility.
Consistently high quality

Quality independent of the welder

Low scrap

Low rework

365-day operation
Implementing savings potentials.
Reducing labour costs

Avoiding oversized weld seams

Shortening throughput times

Quick parameter settings
Expanding feasibility.
Uninterrupted weld seams

Less heat introduction

Meeting high visual demands
Overcome the shortage of skilled workers.
Operators can complete even more tasks

Less welding experience necessary

Welding specialists are relieved

Lower absence times
Improved workplace ergonomics
Less welding in awkward positions

Reduced physical stress

Less sick leave among the employees

Greater attractiveness as an employer
Why automate with Lorch?
Welding automation from a single source, from welding experts for welding experts.
The power source and torch are supplemented by additional components and systems to increase productivity and, first and foremost, to ensure the required weld seam quality in automation. Achieving these goals without compromise not only requires outstanding automation skills, but also the full load of arc expertise.
Lorch offers the best of both worlds, with everything from a single source for your direct and safe gateway to welding automation.
Quality and documentation.
Tested product quality
Reliable CE validation
Self-explanatory product catalogues
Comprehensive technical documentation in the local language
Coordinated solution range with added value.
Coordinated interfaces
Higher integration depth for greater user benefits
Coordinated delivery & commissioning.
Coordinated delivery
Factory acceptance at Lorch
Joint commissioning and training
Familiar contacts.
Familiar persons and business relationship
Fewer contacts
Bundled competence
Personal follow-up support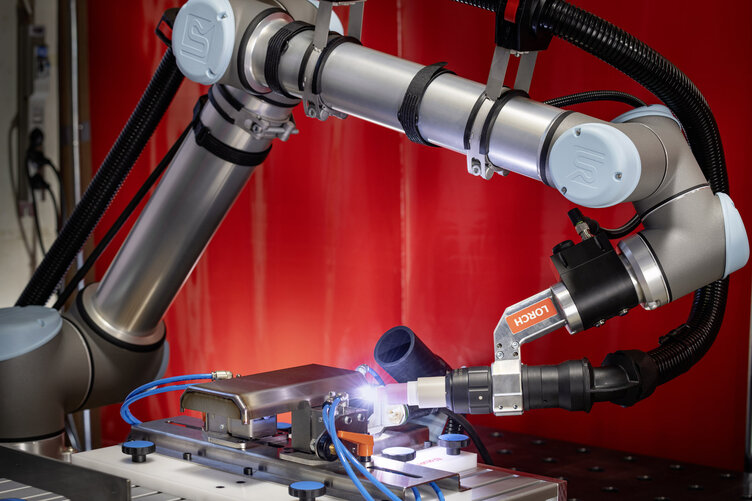 Cobot welding.
The Lorch Cobot Welding Package offers a welding automation package deal for medium-sized enterprises.
Welding small to medium-sized batches quickly, easily, and at a manageable budget? It's no problem with Cobot welding, the easiest kind of welding automation for medium-sized enterprises. The Lorch Cobot Welding Package is perfectly adjusted to the needs of your welding shop. It can be integrated easily into your workflows and will increase your competitiveness. Available as MIG-MAG or TIG edition.
Robotics.
Robot + welding expertise for the easiest gateway to robotic arc welding.
A variety of standardised communication interfaces allows our robotics systems to cooperate with leading robot manufacturers such as ABB, Fanuc, Kuka, Motoman, and many others. Our systems can generally be operated with any welding robot as a bundle or adapted to your application, ensuring perfect results with the interaction of all components from control to arc.
Lorch makes your start into robotic arc welding easier than you ever expected.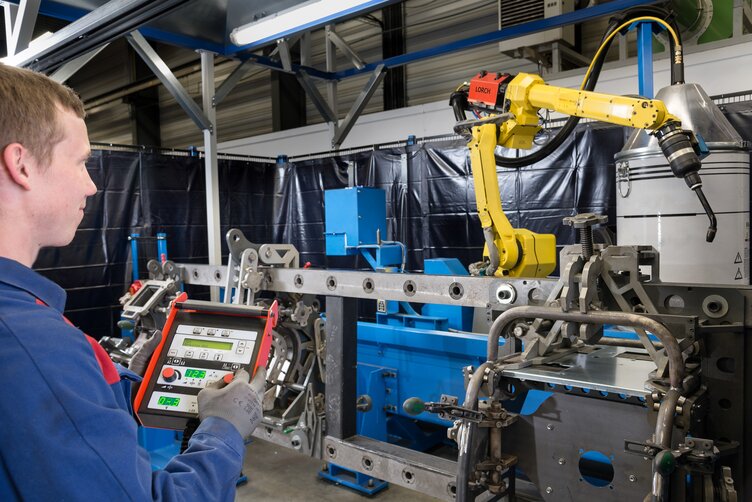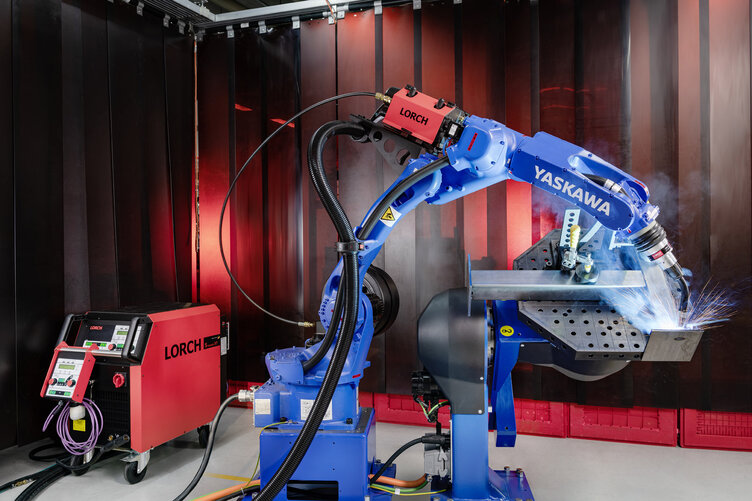 Welding robotics from Yaskawa and Lorch.
Greater efficiency, quality, and safety for all batch sizes.
Together with Yaskawa, the market leader in robot welding, Lorch now provides a quick, simple, and economical gateway to industrial robot welding for medium-sized enterprises. Benefit from the many advantages of automation as well!
Beyond this, the unique symbiosis of first-class automation competence and full arc expertise ensures a perfectly coordinated solution with individual components turning into a smoothly functioning unit.
Partial automation.
Welding tractors for welding automation to match your needs.
The new Lorch welding tractors take over continuous torch guidance to allow welders to focus entirely on setting the welding parameters. This increases productivity and weld seam quality as heat input is rendered more controllable and causes less distortion. Repetition and reproducibility reduce stress. The greater distance from the torch improves even the welder's working situation.