for long, large, and nesting operation.
The Cobot Move linear axis.
More workspace, maximum freedom.
The Cobot Move linear axis is THE supplement for enlarging the Cobot workspace even more. The Cobot remains highly precise thanks to the high-quality ball screw drive installed in the Move linear axis in order to ensure a consistent welding quality across the entire workspace.
TRULY PRACTICE-ORIENTED. TRULY SMART.
The Cobot can be operated collaboratively with the Cobot Move as well and remains CE-compliant for collaborative use:
No additional safety technology such as laser scanners, housings, etc. needed
Sophisticated axis design without any risk of crushing/shearing
Automatic stop and deactivation at unplanned collisions
This ensures true simplicity in installation of the Cobot Move as well: just a few steps are needed.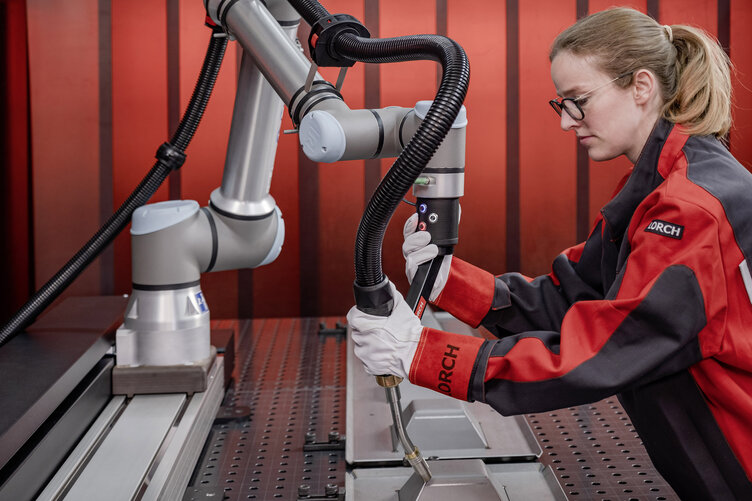 Overview of your advantages:
■ Movement axis (2000 mm) to enlarge the Cobot work radius to more than 4.5 m
■ Optimal supplementation for the Cobot Welding Package on welding tables from lengths of 2.40 m onwards
■ Allows nesting operation or welding of large parts
■ For long weld seams: Welding is possible even when moving the axis
■ Fully integrated control and programming of the axis via the Lorch Motion URCap
Fully integrated. Fully sophisticated.
LORCH MOTION.
The integrated Lorch Motion software permits simple and intuitive control of the additional axis. The different programming functions offer a vast range of options and automatic support that simplify programming. Whether moving quickly to a specific position, fine positioning or moving at welding speed, you have Cobot Move fully under control over the entire working area.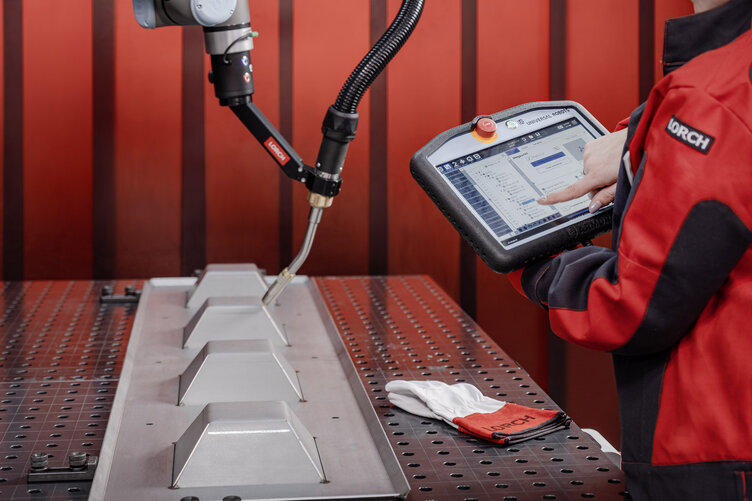 Downloads.
Would you like to learn even more about the Cobot linear axis from Lorch? Technical data as well as details on application and equipment can be found here: