The MF-08.
The mobile, light-weight, and flexible wire feeder.
The extremely robust & crash-proof wire feeder for all-round use.
Wire feeders for construction site use must be robust. It may drop at any time and should survive a fall without taking damage. That is just what the MF-08 can do! Its robust body of resistant, fibreglass-reinforced special plastic is stable and resilient to falls.
Lorch's additional great crash protection keeps the housing and inner elements intact. The MF-08 is designed to keep the case body safe from damage even at drops from a height of 60 cm with the wire reel inserted. This is what great protection and handy features look like at Lorch.
The MF-08 lights up the dark.
Simple handling. Double accessibility.
A great many details of the MF-08 warrant excellent handling, with an easy wire spool change the first among the features. Side covers swing open and lock on either side for good access to the interior and easy swapping of the slightly inclined wire spool.
Apart from this, the electronics and motor are protected and covered for free access to the hose package connections at all times. The locking and strain relief of the intermediate hose package is designed to allow the welder to change the hose package directly, or to transport it separately from the case at need.
Little weight. A perfect grip on it.
Overview of the advantages of the MF-08.
The MF-08 stands out with flexibility, mobility, and greatest comfort of movement. The wire feeder impresses with its smart details, in particular in assembly work and in locations that are hard to access.
Flexible.
The MF-08 stands out with its comfortable movement, in particular when used for assembly in hard-to-reach places. Mounted stably on the power source, the wire feeder swivels to turn the MF-08 into the most flexible solution in the industry.
Light as a feather.
At an empty weight of less than 10.6 kg, the MF-08 is easy to transport and yet extremely robust and durable. Reaching down or in through a manhole, up and down from a scaffolding hanging from a jib or in an overhead position with an appropriate fixture are a walk in the park as well.
Variable.
In contrast to conventional mounting cases that often have only a single handle to use, the MF-08 offers several practical gripping options. For example, it can be easily and conveniently removed from the system using the gripping sections provided for this purpose.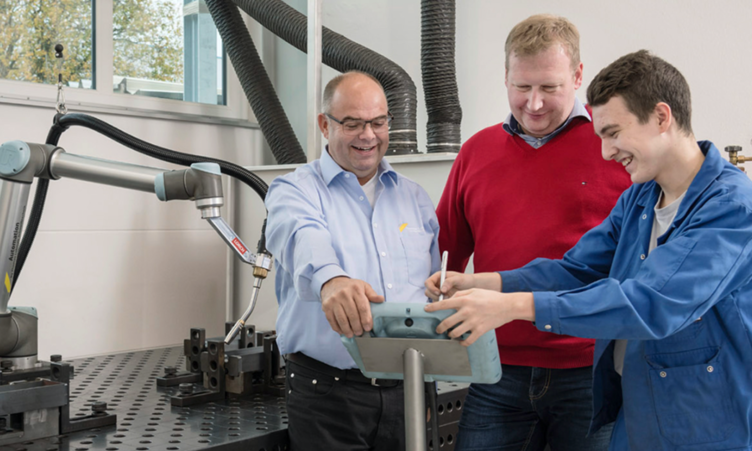 Always the best advice: close, personal and honest.
Are you interested in the MF-08 or do you have other questions? Use the Lorch partner search to easily find a competent contact person in your area and get personal advice.